Photo Credit: Devon & Exeter Medical Heritage Trust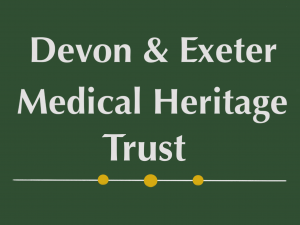 The Devon and Exeter Medical Heritage Trust
The Devon and Exeter Medical Heritage Trust was started informally in 2018 by volunteer curators and cataloguers to hold, preserve, and care for a medical heritage collection of approximately 12,000 items (formerly the Devon & Exeter Medical Society Collection). In 2020, we registered formally as a charity to better help us preserve these items and their stories, and the Devon & Exeter Medical Society agreed to formally donate the collection to DEMH Trust to ensure the continued cohesion and curation of the Collection.
The main charitable aim is to advance education in the subject of the history and development of the practice of medicine and healthcare in all its forms throughout history and contemporary society. We aim to create engaging events that bring people into contact with our objects and their stories.
Cataloguing of the Collection is ongoing! In 2004, the Wellcome Institute awarded a grant to catalogue and photograph items, but some remain unseen and unknown to us. We aim to continue this work and curate displays on a regular basis.
Keep an eye out on our website for our events and opportunities to get involved.
We are thankful to be part of the Heritage Compass Programme, who will provide training and guidance to heritage organisations over the course of 2021 and 2022.
We are currently recruiting volunteers – if you are interested in helping out, please send an introductory email to [email protected] and we will get in touch about the different opportunities available! We are proud partners of the Thriving Communities project.
The Collection
The Collection was initially held in the old Hospital Library, then the Postgraduate Centre, before moving to St Nicholas Priory in 2017 where we put on exhibitions and events. It has accumulated an eclectic collection of thousands of items of medical equipment, books, paintings, photographs and medical curiosities. These artefacts were often donated by local institutions and individuals, and extend from Roman scalpels to early ECG and anaesthetic machines, nursing uniforms to 18th-century medicine chests.
The Collection has been researched and displayed in various hubs and centres around Exeter, including the Wonford Hospital, the then-Exeter Postgraduate Medical School, at Exeter Cathedral, the Wellcome Centre at the University of Exeter, and the Devon & Exeter Medical Society. Most of the pre-1900 books in the Collection were donated to Exeter Cathedral Library, and several paintings have been donated to the Royal Albert Memorial Museum. In addition, the collection has been used in tutorials on the history of medicine at the University of Exeter Medical School.
Between 2017/2018 and 2020, the group of volunteer curators and cataloguers created exhibitions and talks on the history of medicine (for example, HRMES 2019 and during the Siege of Exeter at St Nicholas Priory), and offered handling sessions to the public at St Nicholas Priory and groups around Devon. The DEMH Trust will also be working with St Nicholas Priory to develop wellbeing activities and strategy.